(copy from www.novinki.de)

"Wir arbeiten ja mit Menschen. Das sind nicht Leinwände und Farben. Das ist unglaublich schwer."

Interview mit Natal'ja Peršina-Jakimanskaja (Gljuklja) aus der Gruppe Factory of Found Clothes und der Gruppe Chto delat
15 Jahre feministische Themen mit der Gruppe Factory of Found Clothes und ein zunehmendes Engagement in der linksaktivistischen Künstlergruppe Chto delat. Umgeben von der von der Künstlerin umgenähten Kleidung, in einer schön gealterten Atelierwohnung im legendären Benua-Haus auf dem Kamennoostrovskij Prospekt in Petersburg, fand dieses Gespräch mit der Künstlerin Natal'ja Peršina-Jakimanskaja über Kunst und Politik statt.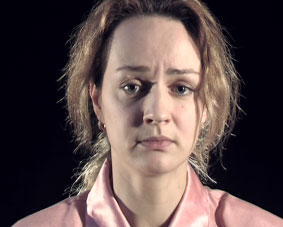 Three Mothers and one Choir. Mutter eins.
novinki: Natalja, Du gehörst gleichzeitig der Gruppe Factory of Found Clothes (F.N.O.) und der Gruppe Chto delat an. Erzähl doch bitte, inwiefern Du diese Projekte und Tätigkeiten im Moment trennst. Sind das für dich zwei verschiedene Aspekte deines Schaffens oder sind die Grenzen zwischen ihnen verwischt?
Gljuklja: Das sind verschiedene Formen des Schaffens, Continue reading "INTERVIEW MIT NATAL'JA PERŠINA-JAKIMANSKAJA (GLJUKLJA)"