Clothes from Lena's aunt.
Once in our project came Lena. She came from a small town. As there it is very expensive to rent an apartment in St-Petersburg she was living at her aunt's home. Aunt seems to be a very nice person from the beginning, but later started to be sadistic and tiresome. Lena complained about her aunt to us. We thought of a solution; how to help her? 
And we created the idea of asking her to bring aunt's album with photographs and her dresses from the past. Then we created a decision to print photographs to textile and include them to the clothes from aunt's wardrobe. When the work was done Lena showed her aunt the objects that we created with the help of the situation. Aunt's mind was moved; she did not expect such an extraordinary thing and was pressed by starting a kind of psychoanalyze of herself in order to understand what happened with her. 
After that Lena got a kind of resistance to aunt (also for understanding her better) and managing the situation. We were proud and happy that it helped her.
Polly's Jacket.
Polly had a child when she was seventeen. The child's father, a nonconformist artist, straightforwardly warned Polly that he wouldn't have anything to do with her or her child. You can imagine what she had to go through after giving birth, especially since her mother isn't exactly mentally well. The letter on the jacket is addressed to an imaginary ideal lover who would rescue her from all her woes and bring happiness to her child.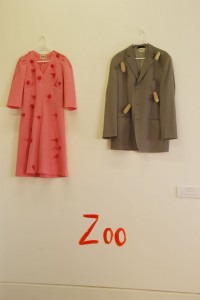 Dresses for the project "The Zoo"
Jacket and dress are symbolizing two hypertrophied male and female principles as a mirror image of the victory of wild capitalism in contemporary Russia . We are compo rising the binary oppositions between rich and poor classes with male and female alienation. We think that politic influence on the people s understanding of relations and our target is to show that working in this micro politic level is also very important .
WORKSHOP 4